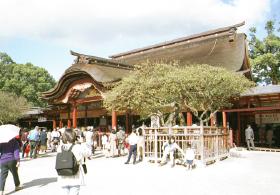 Orign

Shinto shrine in the town of Dazaifu, Fukuoka Prefecture, Kyushu.
The Dazaifu Temmangu is dedicated to the 9th-centry scholar SUGAWARA NO MICHIZANE.
Among many nobles of the Emperor's court sent to the Dazaifu Government, Michizane Sugawara stands out.
It is said that because he excelled in scholarship he was envied by others, and so eventually he was exiled from Kyoto to Dazaifu.
Lord Michizane died in misery two years later.
To propitiate the soul of Lord Michizane, Dazaifu Temmangu (Shrine) was established at the beginning of the 10th Century.
Since then, Lord Michizane has been considered the god of scholarship, honored at approximately 12,000 shrines of Temmangu throughout Japan, but Dazaifu Temmangu is the main shrine.
Dazaifu Temmangu retained a following even after the Dazaifu Government declined, and even today it is still very popular.

Garden
Walk for five minutes from Dazaifu Station.
visit is free.